Old Plum Grove Cemetery, West Point, Fayette, Texas, United States of America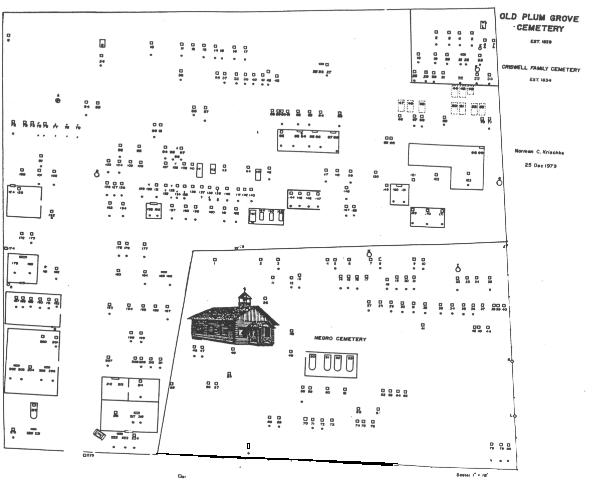 Notes:
Old Plum Grove Cemetery is located in
Fayette County, east of West Point, Texas.
West Point is a small community about l0 miles
west of La Grange on Hwy. 7l (going toward
Austin). Old Plum Grove is a miles or so east
of West Point and the Woods Prairie
(sometimes called Woods Fort Cemetery) is
about 2-3 miles west of West Point.

Old Plum Grove is historic because it is the
location of the first Baptist Church
chartered west of the Colorado.That first church
was called Hopewell Baptist Church.
Plum Grove Baptist Church was established
in 1839 on land owned by John Criswell Sr.
Headstones
Thumb

Description

Status

Location

Name (Died/Buried)

Darby, Sarah Alice
155 & 156
DUNN
R.E. (Dick) Sallie
Feb 18 1859 Mar 10 1866
Mar 11 1934 Jun 6 1914



Located

Darby, Willis Pickens
157.
Willis P. Darby
Aug 12, 1821
Jun 6 1895

Located

Dunn, Richard E.
155 & 156
DUNN
R.E. (Dick) Sallie
Feb 18 1859 Mar 10 1866
Mar 11 1934 Jun 6 1914



Located

Faires, Ada A.
145. Ada A. Faires
Born: Feb 25 1851
Died: Jan 1 1869


Located

Faires, William Alexander
147. W.A. FARIES
Born: Dec 5 1806
Died: Mar 22 1885


Located

Gregory, Madison F.
159.
Madison F. Gregory
Born: Feb 29 1866
Died: Oct 6 1890

Located

Gregory, Robert A.
160.
Robert A. Gregory
Born Feb 2 1853
Died: Dec 9 1888

Located

Karnes, George Washington
22. Geo. W. Karnes
Feb 3 1832
Dec 30 1913

Located

Karnes, George Washington
20. G.W. Karnes Jr.
July 24 1862
Nov 8 1925

Located

Karnes, Lula
217 & 218
SIMPSON
Joshua G. Lula K.
Mar 13 1855 Sep 4 1859
Dec 9 1938 May 25 1939


Located

Karnes, Mattie
23. Mattie Karnes
Born Feb 28 1857
Died: Oct 15, 1869

Located

Karnes, Thomas C.
214.
Erected to the Memory of
Sov. Dr. T.C. Karnes
Of Guadalupe Camp No 90, Gonzales, Tex
Born January 28, 1858
Died: August 19, 1898

Located

Karnes, William Perry
212 & 213.
FATHER MOTHER
William P. Elizabeth S.
Jan 16 1829 Mar 28 1844
Apr 13 1905 Jul 8 1931


Located

Karnes, William S.
148. W.S. Karnes
Born: Feb 11 1855
Died: Jan 11 1891
Aged 25 yrs 11 Mos



Located

Kirk, Frances Emiline
119.
In Memory of
Francis Emeline (Karnes)
Mother of
Wm. Thos. and Laura Karnes
Born: Nov 1 1834
Died: May 10 1861
Aged 27 yrs, 6 mos 10 dys

Located

McClure, Ada
146. Ada Faires
Born: Feb 1 1810
Died: May 19 1874

Located

McClure, Alice
162,
In Memory of Alice
consort of William Scallorn
Died May 17 1881
Aged 86 yrs 2mos 5 dys
Alice Scallorn nee McClure

Located

McClure, Elizabeth
34. Elizabeth Karns
Mar 1, 1802
Feb 3 1868

Located

Moore, Matilda
21. Matilda Karnes
May 22 1836
Oct 8 1915

Located

O'Daniel, James
65.
James O'Daniel
Born: May 2, 1813
Died: Dec 9 1885
We cannot tell who next will be,
Beneath thy chasting rod.
One must be first, but let us all
Prepare to meet our God


Located

Scallorn,
166.
Infant
son of
Dr. William M & Mary Sorrelle Scallorn
Born: Nov 14 1867
Died: Nov 16 1867

Located

Scallorn, Albert Owen
68.
Albert Owen Scallorn
Born: Dec 30 1838
Died Aug 11 1839
On of William and Alice Scallorn 8th grave in
cemetery

Located

Scallorn, Amanda
67.
Amanda Scallorn
Born: nov 25 1827
Died: Jan 17, 1845
10th grave in cemetery daughter of William and
Alice Scallorn.


Located

Scallorn, Barbara Ann Gorden
164.
Barbara Ann Gorden
daughter of Dr. William M. and Mary Sorrelle
Scallorn
Born: Dec 11 1862
Died: Sep 29 1863

Located

Scallorn, Elizabeth
66.
Elizabeth O'Daniel
Born April 7, 1821
Died: March 12 1854
Elizabeth was the daughter of William and Alice
(McClure) Scallorn


Located

Scallorn, Elizabeth
212 & 213.
FATHER MOTHER
William P. Elizabeth S.
Jan 16 1829 Mar 28 1844
Apr 13 1905 Jul 8 1931


Located

Scallorn, Mary Ann
158.
Mary A.
Beloved wife of
W.P. Darby
Mar 26 1826
May 17 1894
W.P. Darby married May Ann Scallorn daughter of
William and Alice Scallorn



Located

Scallorn, Sarah


Not yet located

Scallorn, William Madison
161.
William Scallorn
Born: Dec 18 1796
Died Jan 1 1888

Servant of God, well done
Best from thy loved employ
The battle fought, the victory won
Enter thy masters joy.
Soldier of Christ; well done
Praised be thy new employ
and while eternal ages run
Best in thy Savior's joy.


Located

Scallorn, William Madison
163.
Dr. William M. Scallorn
Born Dec 24, 1829
Died: Jun 5 1880
Lived as a Christian
As a Christian died.

William Scallorn married Mary K. SoRelle 17 Feb
1858 daughter of T.B. SoRelle. He was a
surgeon.


Located

Scallorn, William Thomas
165.
William Thomas
son of Dr. William M. & Mary Sorrelle Scallorn
Born: Jul 24 1864
Died Sep 29 1866


Located

Simpson, Bryan
216.
Bryan Simpson
Texas
Pvt 1c1, Med Dept.
27 Oct 1897
23 Dec 1932

Located

Simpson, Elizabeth
222. & 223
Ernest R, Elizabeth S.
Feb 3 1883 Oct 3 1885
Dec 1 1966 May 29 1967


Located

Simpson, Joshua Guess
217 & 218
SIMPSON
Joshua G. Lula K.
Mar 13 1855 Sep 4 1859
Dec 9 1938 May 25 1939


Located

Young, Ernest Robert
222. & 223
Ernest R, Elizabeth S.
Feb 3 1883 Oct 3 1885
Dec 1 1966 May 29 1967



Located